5 Forecasting Best Practices for Manufacturers
The Importance of Business Agility
Amidst constant change, financial services organizations that want to stay ahead must learn how to adapt—fast. Thriving in an unpredictable environment requires agility. But the planning systems of yesterday aren't suited for today's world, where business conditions can change in an instant.
Download our free eBook to learn how:
Active planning and execution are crucial to your organization's long-term success

Manufacturing organizations like yours have replaced static annual plans with agile forecasts and run holistic, dynamic what-if scenarios that help allocate capital where it's needed

Streamline reporting and access real-time data and analytics to quickly address changing industry trends

Sharpen insight, reduce risk, and operate with agility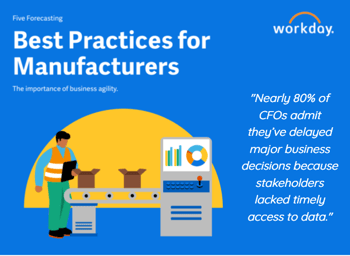 Companies across the globe have saved on costs by modernizing their business management software. Frank, Rimerman Consulting offers a variety of CPM (Corporate Performance Management) and ERP (Enterprise Resource Planning) solutions.
With years of experience with both implementing and optimizing these solutions, we can assess your current business systems and operations to provide tailored recommendations