Plan to Win: Achieving Business Agility in the Age of Urgency
To think fast and move first, companies must embrace a new model or risk being left behind
Business agility is now a determining factor for success in today's data-driven, fast-paced world. Whether they know it or not, many organizations today stand at a cliff-edge. They didn't get here overnight—the business environment has been growing faster, more dynamic, and more complex for years, picking up pace as it goes.
But we're headed towards a huge step change in the way organizations need to operate in order to succeed—in the way they plan, execute, and measure their activities in service of their strategic objectives.
Surviving in a fast, ever-changing, complex environment means organizations need a few critical qualities to function:
Visibility to see what's happening
Insight to form a strategic plan in response
Control to execute meaningful coordinated action
Listening instruments to measure the results
This ebook sets forth a clear vision for where strategic business planning is headed and the impact it can have on organizations. The practices detailed are a guide for businesses to chart their futures in this ever-changing, digital world.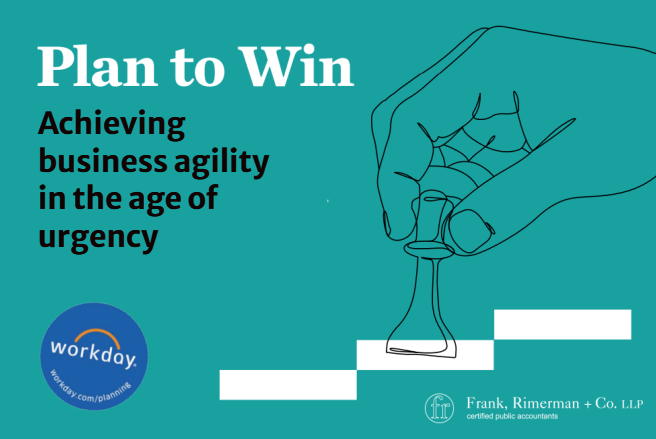 Companies across the globe have saved on costs by modernizing their business management software. Frank, Rimerman Consulting offers a variety of CPM (Corporate Performance Management) and ERP (Enterprise Resource Planning) solutions.
With years of experience with both implementing and optimizing these solutions, we can assess your current business systems and operations to provide tailored recommendations