The Nine Circles of Spreadsheet Hell
Spreadsheets can be heaven...for some tasks. But let's face it,
Spreadsheets break down if you're trying to rely on them systematically to gather data from across the organization, roll up departmental plans, or do complex, collaborative planning.

The bottom line: You're spending huge amounts of time, energy, and resources
fighting against a tool that simply wasn't designed to do what you need it to do.



Download our free eBook if you have ever felt:
You waste weeks every year manually consolidating a mass of individual spreadsheets
You can't easily model potential future scenarios or answer "what-if" questions
Measuring actual spend against plan is a major chore
Your talented finance staff spends too much time on low-level, non-value-add activities
You may never catch the errors that plague your plans, forecasts, and budgets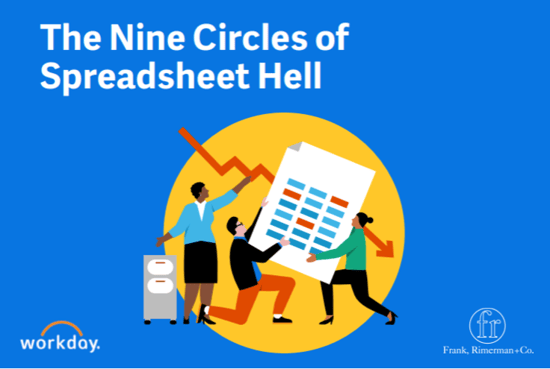 Companies across the globe have saved on costs by modernizing their business management software. Frank, Rimerman Consulting offers a variety of CPM (Corporate Performance Management) and ERP (Enterprise Resource Planning) solutions.
With years of experience with both implementing and optimizing these solutions, we can assess your current business systems and operations to provide tailored recommendations